Nice When You Legalise: Famous Lithuanian Musicians Encourage People to Buy Sheet Music Not Copy It
The Music Information Centre Lithuania has launched a social campaign, Nice When You Legalise, which encourages everyone who is involved in music to change their old habits, purchase sheet music and respect the magical relationship between a performer and a composer that is born through creative work.
---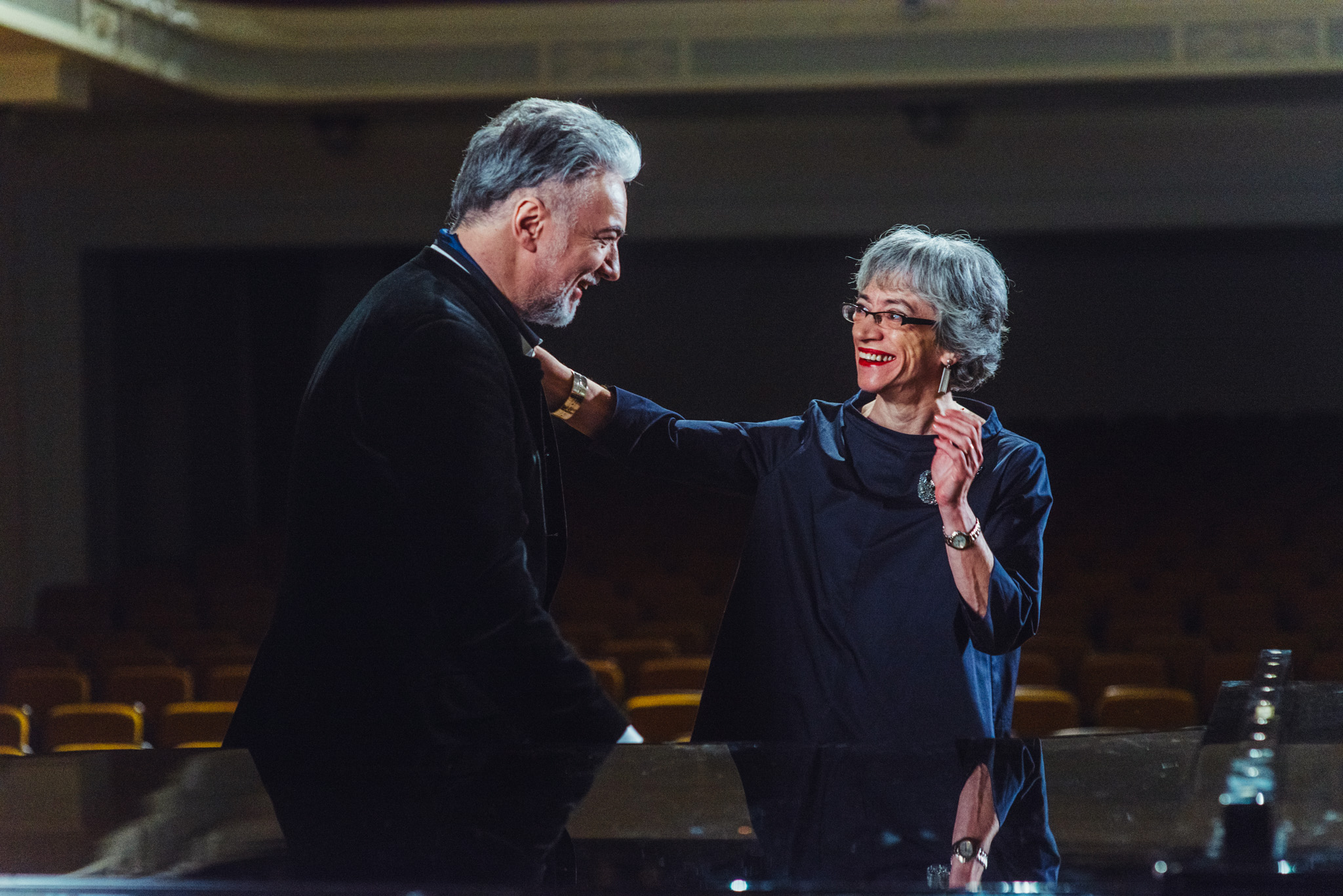 Petras Geniušas and Onutė Narbutaitė. Photo: Tomas Terekas

The platforms with legal access to music that help to secure the rightful use of material under copyright have been in discussion for a while now, internationally as well as in Lithuania. The Music Information Centre Lithuania has decided to focus on an area rarely addressed in Lithuania: the legitimate use of sheet music.
"In developed Western countries there is no discussion about bringing illegally obtained scores to an instrument lesson if you are a student, even more so when you go on stage to perform a piece. Elsewhere, it is normal to buy the sheet music while in Lithuania the discussions are only just beginning. This is partly because there are no publishers who meet the standards of those in old democracies and operate based on principles of business and rights management. They provide stability to the musical ecosystem", – says the Director of the Music Information Centre Lithuania, Asta Pakarklytė. 
A video created for the Nice When You Legalise campaign features composer Onutė Narbutaitė and pianist Petras Geniušas. Narbutaitė's pieces have been performed by world famous musicians such as the BBC Symphony Orchestra and the Arditti and Kronos Quartet. Petras Geniušas gained international recognition from his performances in more than forty countries and famous concert halls – the Grand Hall of Saint Petersburg Philharmonia, Alice Tully and Avery Fisher halls in Lincoln Centre in New York, Geijutsu Gekijo in Tokyo, Musikverein in Vienna, and others.
These artists, famous in Lithuania and around the world, invite everyone who performs music to think of the consequences of the use of illegally obtained sheet music and to create positive relationships with the authors by legally purchasing their work. According to Petras Geniušas, no self-respecting performer would ever bring illegally copied sheet music on stage. Performing from illegal sheet music is first of all a matter of professional ethics. A professional performer, collective, or anyone aiming to be such, should never consider doing so. It is also a matter of prestige. 
This year the Music Information Centre Lithuania presented the first online store for sheet music and albums by Lithuanian composers: MusicLithuania.com. Hopefully, the new store will significantly contribute to the promotion of work by Lithuanian composers and the international growth of Lithuanian music repertoire. At the same time, it provides an easy way to purchase sheet music and encourages their legitimate use in the country.
Matas Drukteisnis, the project manager of MusicLithuania.com and the creator of Nice When You Legalise, says that this campaign aims to highlight the relationship and mutual respect between performers and composers. Just as a performer expects to be paid for a concert, or a teacher for lessons, a composer also expects their scores to be purchased and royalties to be paid. 
The partners of this social campaign and video production include the Lithuanian National Philharmonic Society, the Lithuanian Academy of Music and Theatre, the Martynas Mažvydas National Library of Lithuania, the Lithuanian Composers' Union, and others. The creators of this campaign hope that in the long term all Lithuanian concert institutions and event organisers will pay attention and ensure that only legally obtained sheet music is used during their concerts. This campaign also aims to encourage discussions and raise awareness in the educational sector. Educational institutions should make sure that intellectual property is used legitimately and positive habits should be formed early on in younger generations. 
The activities of the Lithuanian Music Information Centre are supported by the Lithuanian Council for Culture, the Ministry of Culture of the Republic of Lithuania and the Association LATGA. The expansion of legal access to scores is supported by the Copyright and Related Rights Protection Programme. 
A video of the campaign:
---