"Music of Changes": joys and anxieties of the present
The sweet sounds of summer soothe and caress our souls, while sometimes also lulling and dulling our minds. But with the coming of autumn, we suddenly awaken from the leisurely dreams of summer and start sensing the vibrant, bustling world around us. The sheets of music start rustling, melodies follow our respiratory patterns, and rhythms seem to resonate in every brain cell. Time then comes to open our minds to the joys and anxieties of the present: to open up to the "Music of Changes".
By presenting the most daring and exciting musical art of our time with infectious energy and dash, the festival offers an opportunity to focus attention on the ever changing and constantly reviving world of sounds. We sincerely hope that their invigorating flow will inspire changes in our environment and our inner selves.
Wednesday 19 September, 6.30 pm
"Minimal Gravity"
The festival opens with the programme "Minimal Gravity" presented by the Synaesthesis – an ensemble of young new music enthusiasts who will be making their debut on the stage of the Klaipėda Concert Hall. Offering a condensed experience of post-minimalist music, the programme features works by composers who live and work in New York and Vilnius: David Lang, Michael Gordon, Julia Wolfe, Dominykas Digimas, Ričardas Kabelis and Rytis Mažulis. A programme of music by American and Lithuanian composers reflects a universal tendency towards minimalist aesthetic irrespective of geographic location and cultural tradition, but also revealing multiple approaches to individual modes of expression.
Members of the ensemble regard 'minimal gravity' as a specific state of mind, which the musician only adopts while performing this kind of music because each individual guise of minimalism requires a different relationship between the code of a particular piece and the performer's ability to make out its meaning. Such mode of musicians' presence on stage, which is rather demanding but at the same time enormously engaging, determined the ensemble's move towards minimalist music that now makes the largest portion of its repertoire.
Formed six years ago, Synaesthesis is currently engaged in active concertizing, having made regular appearances in Lithuania and Austria. Among the features that attract and fascinate its audiences are impeccable professionalism, openness to diverse forms of cross-pollination between different art forms, and ingenious interpretations of contemporary art music and experimental pieces.
Karolis Variakojis, who will be conducting the ensemble, has once admitted in an interview that music is "like the one you love: I would do anything for it and it lends meaning to every action I take, even that which seems to have no direct relation."
Thursday 20 September, 6.30 pm
"For Darkness Is as Light to You"
The work of Vaclovas Augustinas enthrals listeners, above all, by being honest and profound. As a long-standing artistic director and conductor of the Jauna Muzika Choir of Vilnius Municipality, he has naturally written quite a lot for choir. Artistic choices he has made in the process of composing appear to be unfailingly convincing and exciting because he usually did so with discretion and in accordance with his experience, erudition and taste. The long-term partnership between the composer/conductor and the choir has recently yielded the first portrait CD of Augustinas' works, entitled "Tau bet kokios sutemos šviesios" (For darkness is as light to You).
"The music recorded on this CD is very special to me, simply because this music is mine: it is based on my set of aesthetic principles, my attitudes towards many things which I have experienced in my unique way. I am certain that nobody sees the world through my eyes and listens to the music with my ears. Do I have to be interesting and important to the world? I don't think so. But I believe that I am interesting and important in the eyes of God. I compose combinations of sounds that sound beautiful to me; I choose texts that seem important and touching to me; I develop ideas that grip my attention, and want to share all this with everyone around – first of all with my singers, and then with everybody else," says Vaclovas Augustinas, winner of the Lithuanian National Arts and Culture Prize, about his new portrait album.
Friday 21 September, 6.30 pm
"Rites for the Orchestra II"
The first programme in the series "Rites for the Orchestra," initiated by the artistic director of the Klaipėda Chamber Orchestra, Mindaugas Bačkus, was introduced two years ago at the "Music of Changes" festival. Bačkus states: "It is dedicated to music that involves not only auditory but also participatory element. The idea is to relate different modes of expression that would enhance the overall perception of music."
Jesus' Blood Never Failed Me Yet by cult British composer Gavin Bryars is a work of tremendous emotional power capable of overcoming even the most sceptical listener. The recorded hypnotic chanting of an old homeless man in London will be accompanied live by the string orchestra and the harp, performed by Liucilė Vilimaitė.
Four Marys for string orchestra by renowned American avant-garde composer Julia Wolfe and Arvo Pärt's Fratres, one of the most performed works by the most performed living composer in the world, in which Linas Valickas will play the solo violin part, will veil the audience in the subtle aura of sounds. Mindaugas Bačkus, who is renowned as an ebullient performer, will play the solo cello part in Jurgis Juozapaitis' piece Visions.
The second programme of "Rites for the orchestra" will also feature the Saga by Julius Andrejevas. The last piece by the composer who passed away a couple of years ago will be performed by pianist Daumantas Kirilauskas.
Tuesday 25 September, 6.30 pm
"Less Is More"
The programme "Less Is More" will put us under the spell of minimalist music. It is presented by a group of enthusiastic musicians from Klaipėda: pianists Gaivilė Simaitytė and Kristina Budvytytė-Mejerė and the string quartet of the Klaipėda Chamber Orchestra. The soloist, soprano Dovilė Kazonaitė, also hails from Klaipėda, even though she now lives in Vilnius.
The programme opens with the poetic Last Divertimento of Autumn by Zigmas Virkšas from Klaipėda and ends with the alluring piece for string quartet Oh, Darling by Vidmantas Bartulis from Kaunas. A piece by Danish composer Simon Steen-Andersen will offer yet another variation of theatrical element in music.
The rest of the programme is mostly comprised of works by American minimalist composers, including Philip Glass's famous Four Movements for piano duo and the wonderful Simple Song#3 by David Lang, which was featured in the award-winning film Youth by Paolo Sorrentino. Especially for this concert Lang, who was the featured composer at last year's festival, wrote a version of this song for soprano, violin and piano. The programme will also include his Ark Luggage for soprano and string quartet, set to a text by Peter Greenaway, which lists 92 things Noah took along with him during the flood.
Once you get under the spell of minimalist music, you can hardly resist its gripping power. Listening to repetitions of simple rhythmic and melodic patterns, like watching the patterns of clouds or running water, is very relaxing and inviting to casually enjoy what is just happening here and now.
Thursday 27 September, 6.30 pm, at the Ground Floor Foyer
"Soundscrapers"
The programme entitled "Soundscrapers" will explore the overlapping territories of acoustic and electronic sound, sometimes also with an addition of video artworks. The first half of this programme focuses on the symbiosis of accordion and electronics, featuring a number of new works that received world premieres last spring, at the "Jauna Muzika" festival in Vilnius. Artistic explorations by Mantautas Krukauskas, Egidija Medekšaitė, Antanas Jasenka and Andrius Šiurys will be demonstrated with utmost precision and persuasion by accordionist Raimondas Sviackevičius, a dedicated promoter of contemporary music and initiator of new works for his instrument.
In the second half the stage will be taken over by violinist Rūta Lipinaitytė, pianist Indrė Baikštytė and trumpeter Laurynas Lapė. According to Indrė, "Rūta and I have a common goal: to promote the work of Lithuanian composers. Thus far we'd usually put at least one Lithuanian piece in all our programmes. In this particular one we decided to take one step further by performing the version of Anatolijus Šenderovas' Cello Sonata for violin and commissioning new works for violin and piano. I must say it was really exciting to collaborate with younger composers Jonas Jurkūnas and Marius Salynas. We were also very glad that trumpeter Laurynas Lapė accepted our invitation to join the ensemble. In our performances of chamber music we seek novelty and positive challenges. We are quite sure that the rare combination of violin, trumpet and piano will be as delectable for the listeners as it is fun for us to play."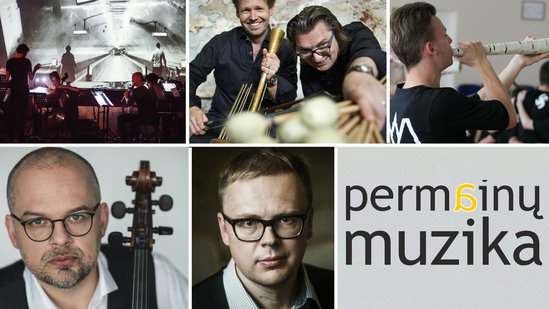 Friday 28 September, 6.30 pm
"Wind Harp"
This programme presented by the Klaipėda Chamber Orchestra was named after the new piece by Justė Janulytė. It was composed in response to a commission from the Thomas Mann Festival and premiered by the Orchestra under the baton of Latvian conductor Normunds Šnē in the middle of July in Nida. "Even before I set to work on this piece I knew that it should be scored for harpsichord and strings. While the wind harp instantly raised parallels with Nida and the seaside, I didn't know if there was any such instrument in the Curonian Spit. All the same I think it would sound great in such a wind battered region. My work is a metaphorical representation of a wind harp," said the composer who was awarded the Lithuanian National Arts and Culture Prize for musical embodiment of visual metaphors.
The solo harpsichord part in Janulytė's Wind Harp is entrusted to Sergejus Okruško, while the artistic director of the Klaipėda Chamber Orchestra, cellist Mindaugas Bačkus, performs solo in David Lang's world to come, concerto for cello and chamber orchestra. David Lang is one of America's most renowned and performed living composers, a philosopher in music, reflecting on fragility and power of being in his numerous works.
Distinguished for elegant musicianship and subtle musical taste, Normunds Šnē is loyal to his orchestra Sinfonietta Rīga and thus can be rarely seen appear as a guest conductor with other orchestras. This concert is one of such rare occasions, for which he also chose to perform a piece by his compatriot Jānis Ivanovs and pulsing Shaker Loops by American minimalist John Adams.
Monday 1 October, 6.30 pm, at the Chapel of St Francis of Assisi
"The Magic of Kutavičius' Oratorios"
For more than half of a century the music of Lithuanian composer Bronius Kutavičius has been the symbol of adamant and uncompromising work. Many generations of performers and their audiences have fallen under the magic spell of his music. "What Kutavičius creates cannot be pigeonholed as music alone: it has more to do with matters that come directly from our lives as human beings. As performers, we would not bear it after several months, if our job was to stick rigidly to what's written in the score. Instead, it integrates the whole of culture. This music is able to alter our way of thinking and change us for the better. It also encouraged us to realize that the effort put into execution of that score fills your life with meaning and quenches the longing for genuine values. For us it gave direction towards the way we should live, the way of living and being together. Thank you so much for that, Kutavičius!" composer Šarūnas Nakas once told about the oratorio From the Yotvingian Stone, which Kutavičius wrote for the Vilnius New Music Ensemble that Nakas had directed. The ensemble has performed this oratorio to great acclaim in many countries around the world.
It opens with a percussive episode, in which rhythms are performed by striking stones against each other, resulting in a kind of ritual to invoke the spirits of the defunct Yotvingian tribes. The entire oratorio may be perceived as the evolution of peoples' culture from the most primitive forms to the most polished creations, such as folk song.
The score of his preceding oratorio, Last Pagan Rites, has staves shaped in circles and squares, besides some other unconventional notation symbols. Another important feature is spatial distribution of singers and instruments during the performance: the choir encircles the listeners, while the soloist stands in the midst of an audience and performs incantation against a snake bite. This work impressively conveys pre-Christian perception of the world and signals the advent of Christian culture with the sounds of organ in the final section.
To enact "The Magic of Kutavičius' Oratorios" professional musicians will team up with the pupils and teachers from the Vydūnas Gymnasium and Stasys Šimkus Conservatory.
Wednesday 3 October, 12 pm and 6.30 pm, at the Ground Floor Foyer
"Rhythm Games"
It is for the first time that the "Music of Changes" festival invites the youngest listeners – kids aged between five and twelve years – to play some "Rhythm Games" together with their parents. Two percussionists from Sweden, the Rhythm Art Duo, will introduce and demonstrate various instruments used in performances of contemporary music. The little ones will be offered to 'play' with sounds and to express their emotions by making music together with percussionists Daniel Berg and Fredrik Duvling who have a solid experience as music educators. They collaborate with many of Sweden's regional music foundations and schools and encourage kids and young people to start playing classical percussion instruments. Actress Rugilė Latvėnaitė will keep them company in this programme.
Thursday 4 October, 6.30 pm
"Percussion Night"
"Percussion Night" translates into roughly two hours of riveting percussion music performed by the recognised masters of the percussion instruments from Lithuania and Sweden. The first round of the concert will feature the Rhythm Art Duo from Sweden: Daniel Berg (marimba) and Fredrik Duvling (percussion). The two musicians have been playing together for more than a quarter of a century. Frequently heard in various venues around Europe, the ensemble is also eagerly collaborating with composers who often dedicate their works to the percussion duo. Last year the duo commissioned a new piece from Loreta Narvilaitė who wrote Akataka, which they currently often include in their programmes.
During the second round the Swedish crew will give way to the old-timers of the Klaipėda Concert Hall: Giunter Percussion ensemble, under its exuberant leader, percussionist Pavel Giunter. This time they will appear as quartet, besides the leader also including Sigitas Gailius, Tomas Kulikauskas and Andrius Rekašius. As a matter of coincidence, these three members started their education as musicians at the Eduardas Balsys Gymnasium of Arts and Stasys Šimkus Conservatory in Klaipėda.
For this concert the ensemble picked some of the most colourful pieces for percussion, including The Wave for marimba and percussion by Japanese composer and percussionist Keiko Abe and Nagoya Marimbas by American minimalist composer and percussionist Steve Reich.
The concert will culminate in a joint performance of Raminta Šerkšnytė's Idée fixe for six percussionists. "The character and dramaturgy of this piece were determined by its title," asserts the composer who is the recipient of Lithuania's highest distinction awarded to the artists, the Lithuanian National Arts and Culture Prize.
KCH information
Compiled by Loreta Narvilaitė