FEATURE. Onutė Narbutaitė: The Power of the Sincerity of Experience
---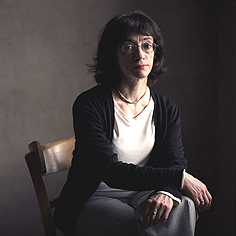 photo: Astrid Ackermann

Onutė Narbutaitė is one of the rather few contemporary composers, whose music bears a mark of extraordinary individuality; this music does not yield to being associated with any established stylistic trend, tradition or school, but is always undoubtedly 'hers' and remains recognisable from the very first bars of each composition.
Onutė Narbutaitė's music has a forthright power of attraction. The composer seems to be fully transfused with imaginary sounds, which she then conveys to the audience. The power of her work depends on the sincerity of experience; it manifests itself regardless of the stages of the composer's maturity. June Music 1981 for violin and cello (1981) is so transparent that one can undoubtedly attribute it to the most suggestive works by the composer. It was a bus trip from Vilnius to Klaipėda through a monotonously solemn hilly landscape relentlessly penetrating into the consciousness that suggested the key image of the five-part composition: moving statics. This resulted in a work combining the thriftiness of means with a free outflow of sensations, registered with a kind of feverish alertness.
Reinhard Schulz, Süddeutsche Zeitung
Like many compositions created by the generation of Lithuanian 'neo-romanticist' composers (Narbutaitė made her debut with this generation in the late 1970s), the composer's early opuses abounded in images of 'night', 'silence', 'oblivion', unhurried flow, transparent textures and nostalgic moods; her mostly chamber instrumental compositions were often reminiscent of pages of a sound diary, frozen instants of impressions, recollections and reflections.
However, from the outset Narbutaitė's music was noted for certain features that distinguished her from contemporary fellow composers (such as Algirdas Martinaitis or Vidmantas Bartulis). The explicit emotionality of Narbutaitė's music did not become the dominant impulse of her compositions, did not break out in the onrush of sorrow or exploding ecstasies, or acquire the forms of a more 'frivolous' game; neither was it ever transformed into later post-modernist parodies of itself.
The impact generated by Onutė Narbutaitė's works is related with quite uncommon paradoxical inner balance: their sound is both simple and complex, personal and universal, meditative and analytical. The listener does not have to study the program or even open the score to understand what is happening in Narbutaitė's compositions. She conveys what she wants to say directly, without resorting to detours of some schools or theories.
Albrecht Thiemann, Märkische Allgemeine
Along with a wide range of various states, moods and emotions, Narbutaitė's entire work is noted for a sense of aristocratic measure and strong compositional discipline, which only enhances the emotional impact of her music. However, the constructive principle manifests itself in a different way than through some borrowed or self-made systems of total organisation of various musical parameters. Thus Narbutaitė's intellectual opuses might remind us of some precisely executed 'handicraft' rather than 'machine production' (when a prefabricated scheme generates the sound material of a composition). The rationality of composition here is expressed by meticulously detailed textures, exact proportions of smaller and larger sections and the overall form, and understated interplay of minute details. In the hands of the skilled performers these structures acquire voice and live their autonomous lives: subtly nuanced intertwining melodic lines sound like a conversation between some 'characters', at first mildly contradicting, and then again agreeing with each other. The abstract (far from conveying overly concrete stories) musical narrative is extremely expressive, prominent and often reminiscent of 'something familiar'; this original combination of the feeling of fragmentation and a solid whole, constructive logic and spontaneity hints at some unexpected 'dream poetics' - something like a fleeting elusive chain of musical images, occasionally arising in a consciousness already sinking into sleep, but not yet losing touch with reality…
This music is marked with the true spirit of the present, yet we can still feel the presence of a veil of the past. […] Sometimes the Lithuanian composer gravitates toward elegiac moods, at other times she weaves a rather crude duet for violin and alto with plenty of fury (Eight-String, 1986). And, undoubtedly, Onutė Narbutaitė's music is imbued with dramatics and wilful expression. Each particle is important; yet concurrently a stable compositional basis is always retained.
Tilman Urbach, Fono Forum
Like other representatives of Lithuanian 'neo-romanticists', Narbutaitė sometimes weaves certain allusions to the music of the great composers of the past into her opuses. Several of her dedicative chamber instrumental works develop into a kind of 'seasonal' cycle: Mozartsommer 1991 for flute, violin, viola and harpsichord (1991); Autumn Ritornello. Hommage à Fryderyk for violin, viola, cello and piano (1999); Winterserenade for flute, violin and viola (1997), based on the motifs of Schubert's song Gute Nacht from Winterreise. However, Narbutaitė seeks neither to melt down her artistic identity in stylistic reconstructions, nor to create an effect of collage or dramatic collision by emphasising the distance between the music of those times and the present. Echoes of the past are absorbed in her work and become inherent elements of expression - it is frequently difficult to spot a particular place where the composer inserts an episode of borrowed music. An extreme example of this is the opus Mozartsommer 1991, composed entirely of very tiny fragments of Mozart's music, as if borrowed words or syllables of foreign language, which build a new musical language of the composer, coherent and individual.
The wispy texture and absorbingly sustained mood keep it going three times as long as the original and make you forget it - until the ending, which releases your attention with a whispered quotation from Schubert's piano introduction. For the rest, Schubert is magically transformed into nature sounds, sighs, sobs and faltering steps. [...] Narbutaitė is a great composer. Discovering her would have been worth a far longer winter journey.
Richard Taruskin, The New York Times
In this 'seasonal' cycle the 'spring' part is missing - the composer once remarked that the latter would be associated with Bach's music… However, Bach has appeared in the composer's oeuvre without any direct quotes: the source of inspiration for the slow movement - Melody - of one of her most successful opuses, Symphony No. 2 (2001), and its chamber version, Melody in the Garden of Olives for two string quartets and trumpet, was, in the composer's words, "the mystical processuality of the slow movements of Bach's works". The composer, who has previously been famous for her lucid chamber compositions of intimate expression, though she has also composed some memorable opuses for chamber orchestra (Opus lugubre, 1991; Metabolē, 1992; Sinfonia col triangolo, 1996), as well as an impressive multi-lingual oratorio Centones meae urbi for soloists, choir and orchestra, revealing the unique multi-cultural heritage of Vilnius (for which she was awarded the National Prize of Lithuania in 1997), became the true leader of Lithuanian symphonic music with her Symphony No. 2.
The action rendered in manifold texture kept my interest sustained, and in the course of the whole composition I witnessed the exceptionally high quality of the material and the composer's attentive absorption into the world of sounds. [...] The symphony not only tickled the listener with its harmonies, but also contained a large variety of orchestral gestures, in which the instruments and individual voices would lose their meaning, dissolve and blend into something more magnificent than individual gestures might be. Most importantly, each gesture was extremely successful. [...] The emotional aspect of Narbutaitė's work was simply immaculate. The music sounded sad, and this sadness was very intense and tangible.
Tomi Norha, Turun Sanomat
It is remarkable that the composer created this symphony (lasting over half an hour) urged by inner necessity rather than on commission. However, its success seems to have started an avalanche of commissions for the composer, who did not feel a lack of international interest before as well, and currently she receives commissions mostly for large-scale symphonic or choral-symphonic works, such as the monumental, over an hour long cycle Tres Dei Matris Symphoniae for choir and orchestra (premiered in 2004 at the opening of the festival "Musikfesttage an der Oder"), or the composition La barca for symphony orchestra (premiered in 2005 as part of the series of concerts "Musica Viva" of the Bavarian Radio in Munich), described by the conductor José Serebrier as "colourfully orchestrated, very passionate music. It could be a Mahler of the 21st century". For the latter compositions Narbutaitė won the awards for the best Lithuanian orchestral works in 2004 and 2005 in the Work of the Year competition held by the Lithuanian Composers' Union - incidentally, she is the sole composer who has won an award in the respective category more than once.
From the outset, Tres Dei Matris Symphoniae is reigned by extremely impressive contrastive dramaturgy. Light is contrasted with darkness, noise - with silence. The rippling sonic surfaces give way to gloomy and ominous whirls. Pleading is suddenly suffused with rebelliousness. [...] However, in this particularly intense composition marked with religious mysticism, the limit of excessive sensitivity and ceremoniousness is never transgressed.
Peter Buske, Märkische Oderzeitung
These large-scale orchestral opuses are interspersed with chamber compositions close to them in certain elements of musical material and extra-musical inspirations - String Quartet No. 4 Drappeggio dedicated to the Arditti Quartet (2004) or Le linee e i contorni for flute, clarinet, violin, and cello, composed for the ensemble "Seattle Chamber Players" (2006). The composer has once said that during the recent several years her work has been gravitating back toward more tangible melodies, transparent colours, and clear-cut counterpoints - in a word, toward 'old and simple things'. However, it certainly has nothing in common with any manifestations of 'new simplicity' or sentimental search for 'harmony'. It was the American musicologist Richard Taruskin who gave probably the most accurate description of her present work: "not 'tonal'. Not 'romantic'. Not 'retro'. Consonant".
The geography of concerts featuring the works by Narbutaitė, who is celebrating her 50th anniversary this year, is traditionally wide and diverse. On September 9th-23rd, she was the composer-in-residence at "Synaxis Baltica 2006", the workshop for students of art management held in Görlitz (Germany), where a seminar devoted to her work was held, and String Quartets No. 2, 3, 4, as well as June Music 1981, were performed. On September 27th, "Ergo Ensemble" performed her String Quartet No. 2 Open the Gate of Oblivion at the "Harvest" festival in Toronto, and the same musicians will perform Drappeggio at the end of November - beginning of December. On October 8th her Melody from Symphony No. 2 will be performed at the festival "Velvet Curtain" in Lvov by the National Polish Radio Symphony Orchestra; its chamber version (Melody in the Garden of Olives) will be performed by two orchestras: on November 4th - by the Ostrobothnian Chamber Orchestra in Kokkola (Finland), on November 30th - by the Munich Chamber Orchestra in Munich, also on December 2nd in Ravensburg. On October 14th the "Velvet Curtain" festival will feature another composition by Narbutaitė - Opus lugubre performed by the Lvov Philharmony Orchestra. On October 29th the "Seattle Chamber Players" will present the world premiere of Le linee e i contorni in Seattle, and will also perform this composition in Turin (at the festival "Est-Ovest" on November 23rd), Copenhagen (November 26th), Stockholm (November 28th) and Moscow (at the festival "Moscow Autumn" on November 30th). In the 10th conference of Lithuanian and Polish musicologists held on December 14-16th in Cracow, a seminar devoted to Onutė Narbutaitė and a presentation of her work will be held, and in the concert closing the conference the orchestra and choir of the Cracow Music Academy will perform Tres Dei Matris Symphoniae.
In the meantime, the composer is focused on a new large-scale commission - a symphonic work to be premiered at the 50th anniversary of the "Warsaw Autumn" festival in 2007.
© Linas Paulauskis
Lithuanian Music Link No. 13