Rasa MURAUSKAITĖ | Conductor from an Exotic Country: An Interview with Giedrė Šlekytė
---
Today this internationally award-winning conductor, who has performed on the stages of European regional capitals and conducted at the prestigious Salzburg Festival, lives in Klagenfurt in the south of Austria, which witnessed the creativity of Gustav Mahler and Johannes Brahms. Here she enjoys her life as an independent conductor, which allows her to live all kinds of different experiences and to return home to a view of the mountains after her travels to buzzing metropolitan cities. Šlekytė, calling herself a 'unconductory conductor,' does not accept the stereotypes imposed on conductors and believes that, in the future, she will frequently be pleasantly surprised by music that is as yet unexplored and which awakens new creative impulses.
---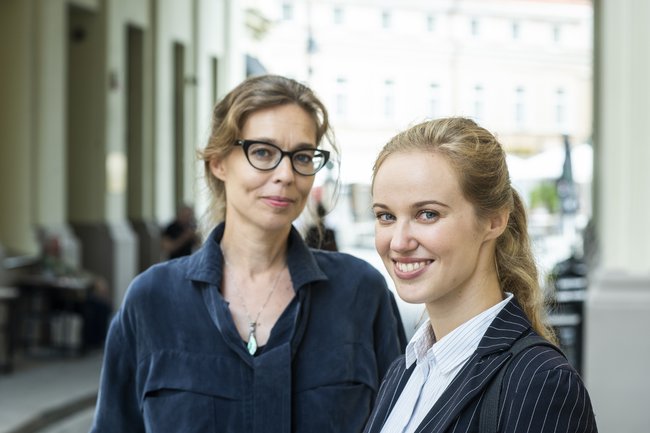 Composer Žibuoklė Martinaitytė and conductor Giedrė Šlekytė after the recording session at the Lithuanian National Philharmonic Society. Photo: Dmitrij Matvejev

Let's start with the reasons you're here. You came to Lithuania to record orchestral music by Žibuoklė Martinaitytė. Is it a 'first date' with the work of this composer?
I was supposed to come in May, but the pandemic and the quarantine altered all those plans. I am happy that we eventually found the opportunity to record Žibuoklė's work in July, even with two orchestras – Lithuanian Chamber Orchestra and Lithuanian National Symphony Orchestra – and with the pianist Gabrielius Alekna.
I've heard about Žibuoklė Martinaitytė and her work before, but we met this year in March for the first time. She came to see my concert at the Philharmonic Society in Vilnius, which also turned out to be the last one before the quarantine. In my memories, these recordings will always remain marked by the context of 2020, the experiences of quarantine, the longing for live music. One of Žibuoklė's recorded pieces is called Saudade (2019) – "longing" in Portugese – so even the musical piece reflected the situation we were experiencing.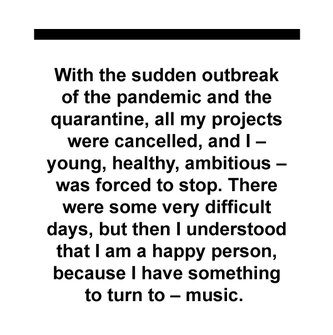 You said many times that, while preparing for the opera production you read the books that the operas are based on. What do you 'read' when preparing for the performances or recordings of contemporary concert music? Such as these.  
The music written by Žibuoklė is non-narrative, it has a more atmospheric, colourful nature, not a narrative written after a particular story. That's why the taming of her music is very different to preparation for the opera, which has a storyline. I warmly remember a long talk with Žibuoklė in March in the old town cafe. That was very important for the preparation. I have no idea how many hours we sat there for, but she talked to me about each piece, its creative contexts and inspirations. For example, Millefleur (2018) was inspired by a woven tapestry with thousands of flowers, its quivering ornamentation. She expressed that quiver wonderfully through instrumental means.
Today we are walking and talking in Vilnius, while you came from Klagenfurt. What is it like?
Klagenfurt on the eastern shore of Lake Wörthersee (Klagenfurt am Wörthersee) – this is the full name of the city – is quite popular for holidays in the southern part of Austria, close to Slovenian and Italian borders. The impressive scenery of this lake inspired many composers to not only take holidays, but also work here: Johannes Brahms, Gustav Mahler and Alban Berg to mention a few. 
I ended up here, because I was working at the local opera theatre. By the way, I didn't really know where exactly it was when I received the invitation, so I perfectly understand those who have never heard of Klagenfurt. Nevertheless, it's a wonderful place in nature with a nice theatre that has a very good reputation amongst the theatres of its size. 
Giedrė Šlekytė conducts the Lithuanian National Symphony Orchestra at a recording session of Žibuoklė Martinaitytė's music. This production will be released by Ondine Records. Photo: Dmitrij Matvejev

But sometime ago you mentioned that you would like to live in Vienna. The contract with the Klagenfurt theatre came to an end, and yet you remained there. Did you change your mind?
Yes, now I'm a free bird and could live anywhere I liked. But once I started travelling a lot, I realised that I like to come back to a small town surrounded by nature. After all, I work in cities all the time. If I stay in Berlin or Frankfurt for a long period, I don't have any desire to come back to another city. And in Klagenfurt, we have a big terrace where we grow vegetables and enjoy the sight of the mountains through the windows. I purchased a piano during the quarantine. It stands near the window with a view of the mountains on the Slovenian side. Everyone who comes to visit me perfectly understands why I chose to live there. During the quarantine it suddenly became very clear to many people that home is a very important space. We realised that there might be many cafes in the cities, lots of action, which might suddenly end and then, after the city buzz disappears, the question remains – do we feel well in our own homes? I feel good. I am happy that I don't have to live in a metropolitan city, in a small apartment without a balcony between four walls.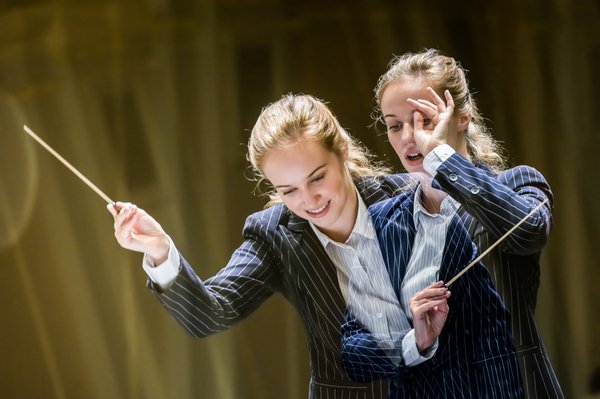 Giedrė Šlekytė. Photo: Dmitrij Matvejev

Talking about the quarantine, did you have to change many plans because of it?
Yes, lots. The opera planned for Copenhagen was supposed to be my debut at their Royal Opera House – I was supposed to spend three months there. Three more months in the summer were planned for the Tirol Festival Erl. My heart aches for my postponed debut at Komische Oper Berlin, where I was supposed to conduct Káťa Kabanová by Leoš Janáček. I was very excited about it...
You conduct operas particularly frequently, and we mentioned opera in this conversation already a few times. How did opera become so close to you?
It's hard to explain, but there are people who become theatre people. The atmosphere in the theatre feels like a massive yet unified organism. There may be many problems there, but it is impossible to live without the theatre. I have already noticed that I am missing working at the opera the most and everything related to that. Sometimes it's even hard to express it clearly.
But it is sometimes said that opera is outdated, full of primitive storylines...
Nonsense! You have to correct these people immediately. Operatic material doesn't seem primitive to me at all. Social injustice, generation gaps, conflicts, political intrigues, freedom, love, pain, isolation – aren't these themes still relevant?
From the opera I would like to return to contemporary music. Many Lithuanian performers and conductors living abroad who have already achieved international fame become a kind of 'musical ambassadors' and present Lithuanian music on global stages. You are no exception. Is that a mission, or is it a completely organic result of programming?
First of all – there's curiosity. Lithuania is still seen as an exotic country. Nobody knows anything about it, so there is a demand. Also, I consider myself a patriot, so I do indeed try to suggest pieces by Lithuanian composers. In fact, I sometimes encounter the stereotype that people can only perform well music by composers from their own country – I completely disagree. I have become deeply immersed in German and Austrian culture, and if someone says that I can't understand something in those cultures just because I am not German or Austrian, I even get offended. So the coin always has two sides.
Perhaps you already have 'your composers'? For example, Mirga Gražinytė-Tyla is often associated with the work of Raminta Šerkšnytė. Are there any composers that you would especially like to bring to an international audience?
I agree with Mirga that Raminta is indeed very special. I understand why my international colleagues are also interested in performing her pieces. Myself, I have always been fascinated by the work of Bronius Kutavičius, and I still am. Now I have also met Žibuoklė Martinaitytė.
You conducted Šerkšnytė's music on a very successful recording released by Deutsche Grammophon.  
Yes! I know that Raminta's Songs of Sunset and Dawn (2007) will also be performed by other colleagues – I am happy about the journey of this piece. This oratorio of hers is very absorbing. Raminta once said that the piece is supposed to be like a half-hour meditation.
Giedrė Šlekytė in front of the Lithuanian National Philharmonic Society in Vilnius. Photo: Dmitrij Matvejev

We have talked about women composers quite a lot – you recorded symphonic work by Žibuoklė Martinaitytė and successfully prepared the piece by Raminta Šerkšnytė. In recent years Lithuanian women, both composers and performers, have shone on the international stage. But is the situation really so good for the women in music that they don't anymore have to fight for their place in the spotlight? I remember that in one of your interviews you reacted quite badly to a question about the comment of a famous Lithuanian conductor, who stated that only men can be good conductors, because the characters of women are simply unsuitable. In everyday life, are women and men conductors already seen as equal?
In the world of conductors this snowball has already moved and it can't be stopped by anyone's scattered thoughts. There are women conductors in Lithuania – Mirga, Adrija Čepaitė and me. They simply exist, so it's impossible to deny it. On the other hand, our everyday life is full of obsolete stereotypes and prejudices. They prevent movement towards equal rights, limit us and hurt thousands of people who don't correspond to the ideals.  
Conductor Giedrė Šlekytė. Photo: Dmitrij Matvejev

What are those stereotypes about men and women conductors?
It makes no sense whatsoever to divide conductors into men and women. To be more precise, the division is between the conductors – normal as it always was (men) – and women conductors. Seeing this grouping makes it clear that stereotypes live and thrive here. We would never see questions about the influence of gender on their work in an interview with a male conductor. Instead I receive these absurd questions every time.
After all, men suffer as well when squished into the 'notion of masculinity'. A man has to be strong, has to like speed, has to be able to lift heavy things, fearless, must never cry, never show emotion... Many amazing men don't correspond to this image. Just as when talking about women it's often said that they don't know how to talk authoritatively etc. And if they do talk authoritatively, they are immediately described as hysterical. Things are made too primitive.
Have you yourself ever experienced discrimination based on gender which caused you difficulties in a professional context? Perhaps at the beginning of your career?
Essentially this work is not easy. And if you ask the colleagues of my age, they would definitely say that they have encountered some kind of problem. Everyone carries their own cross. I have encountered the opinion that a young and beautiful girl is like a trail of incompetency. As if her looks would not be an advantage, but disadvantage. It's scary, but society thinks like that.
And what kind of conductor are you – strict or, on the contrary, very flexible?
You'd have to ask other people, those who see me from the outside (laughs). It depends on the situation, I guess. Sometimes I have to be more strict, sometimes it's not necessary. I always call myself a very 'unconductory conductor,' because I don't fit into many of the profession-related clichés. However, there are many conductors who don't fit into those. I often hear that conductors have to be very self-confident, strict, and always know exactly what they want. I know many conductors of both genders who are very shy, humble, not very self-confident, but incredibly interesting, intellectual and inspiring. Conductors are very different and therein lies the charm.
It's interesting that the majority of Lithuanian conductors developed their careers abroad. They were first recognised there and only later became known in Lithuania. Your case is similar. What do you think, if you had stayed here, would you have made a career as a conductor?
I don't know, because I didn't stay. I can't compare. But, spontaneously, I would say that perhaps I wouldn't have become a conductor. The contrast in education helped me the most. The specifics of what I have received from the National M. K. Čiurlionis School of Art and from Austria was very different. The school in Vilnius is very strict, has strict rules and doesn't allow much deviation. On the one hand this can be criticised, but on the other hand it layed a strong foundation for many Lithuanian musicians, which was useful in further studies at far more liberal institutions. There were no exams in Graz where I studied, very few rules and a lot of freedom, as well as student responsibility. I think that it must have been quite hard to find the discipline for those who came from more liberal schools. But for me, arriving from M. K. Čiurlionis School of Art, it was a perfect fit. Leaving to study abroad was an advantage overall.
You have mentioned once that Vladimir Jurowski, with whom you worked as an assistant, is one of your role-models. What – his personality, his style of conducting, his interpretations – do you admire the most?
I only worked with him for a couple of months in Zurich, but this time made a very deep impression on me. I also plan to work with Vladimir Jurowski in the future. I always say that he is a walking encyclopedia – a conversation with him makes you want to run and read all the books in a row. He inspires curiosity, he is very curious and he knows a lot. His father is a conductor, and his brother as well. Their family of conductors has its own rituals and advice, which they gladly share. Not all conductors approach strangers like that and tell them something, but Vladimir shares happily. I'm not even sure who benefits more – him or the assistant.
He inspired me with stories about his daily yoga practice. At that time, I was going through quite an intense period, I travelled a lot, I was carrying piles of scores and then I started feeling my body protest and indicate that there was too much going on. But, after Vladimir Jurowski's advice two years ago, I started practicing yoga daily too and I felt that it suits me very well. It seems that anyone else could have said that yoga is good for you, but he said it in a particular situation. He is a very interesting and intelligent person. I like people who know a lot – it's impossible not to admire that.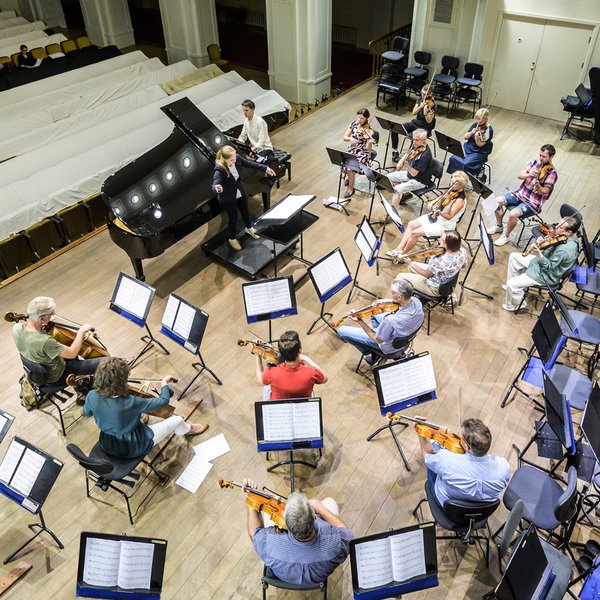 Conductor Giedrė Šlekytė, pianist Gabrielius Alekna and the Lithuanian Chamber Orchestra recording Žibuoklė Martinaitytė's music. Photo: Dmitrij Matvejev

Notions and concepts change significantly over time. Today's cultural reality is also notably different from what it was a few decades ago. Has the perception of the conductor changed greatly, to your mind?
I think the role of the conductor has changed a lot. A dictatorially run orchestra is not suitable for the nature of musicians. People study their instruments and they are free. They play solo pieces and suddenly their wings are clipped in the orchestra. I think such restriction has no place in the future of the orchestra, nor in the work of a conductor. I think the future is in an attempt to find a common direction without big limitations. It is hard to achieve, however, because someone has to make decisions. It's important for the orchestra to believe in the conductor's idea. I think that if musicians feel their creativity is not suppressed, but on the contrary, used to achieve a common musical goal, then they perform their parts much better. I imagine the future like this.
What would you not be able to live without in everyday life?
Many things. It's primitive to say without music, without nature. But recently I have been thinking about this a lot. With the sudden outbreak of the pandemic and the quarantine, all my projects were cancelled, and I – young, healthy and ambitious – was forced to stop. There were some very difficult days indeed, but then I understood that I am a happy person, because I have something to turn to – music. 
It seems primitive, but the quarantine situation has been very harsh on our emotional health. I was thinking – so what, I won't be able to work for nine months now? But then I started to play chamber music, took on some new activities and I realised that I can find the answers to certain questions in music. It sounds esoteric, but after looking more closely, you understand that music can comfort you deeply, not just slightly calm you down but provide purpose. This is also perhaps because of my strong and professionally thorough relationship to music. In addition, the ability to find sense in music for yourself is also the biggest commitment musicians have to society. We are slowly understanding that emotional health is as important as physical health, and art, of course, is one of the most important components of emotional health. It's impossible to live without that. It's only possible to somehow exist.
Foto: Dmitrij Matvejev

Your thinking about the responsibility of the artist recalls the words by the composer Tan Dun – he was speaking very similarly after he composed a piece to honour the victims of the pandemic during the quarantine. The importance of art was clearly demonstrated when many concert institutions and theatres opened up their archives and simply gave their content to the people.  
All these institutions were trying to help their audience as much as possible during this difficult time. But the music lovers most likely enjoyed the archives the most. One of the most important questions is how to invite those who haven't yet discovered the treasures of classical music to enjoy it. The crises happen to everyone. Our task is to make contact with the largest possible audience. Unfortunately this was really challenging during the quarantine, because the strongest ace of music, after all, is the immediacy of the live performance.
This year many of us were forced to get acquainted with the feeling of uncertainty. And you are an independent conductor. Many of your colleagues say that they would like to have their own orchestra, 'to belong' to something. Do you perhaps find this 'weightlessness' even pleasant?
Leaving aside the situation of this year, I feel great in this position. I would like to acquire different experiences, expand my repertoire, take inspiration from my strongest colleagues and, in this way, mature for the position of artistic director and all its related responsibilities. This year, of course, we saw that 'permanent conductors' could feel more stable, especially when talking about financial stability. Also, with the appearance of alternative and inventive projects, open air concerts, chamber operas that could comply with all the preventive coronavirus measures, I was missing 'my' people and the common creative search for contact with the public. Nevertheless, the position of an independent conductor suits me very well at the moment. I already have many projects planned all the way up to the summer of 2023 – I know quite precisely what I will do. Perhaps I would like to settle in one permanent position afterwards.
Translated from the Lithuanian by Erika Lastovskytė