Ugnius BABINSKAS | The Ritual Periphery of Academic Music: An Interview with Rūta Vitkauskaitė
---
This concert format is well known to everyone who is not indifferent to classical or contemporary music with its origin in academies. Refined in the canon over the centuries, everything – beginning with the spatial structure of the venue and ending with the placing of people and their roles – has been finely tuned. Everything is clear and comprehensible.
There is simply no stage. Nor is it needed since in such an individualised concert space there are no longer any boundaries separating the onlookers from the creators. Traditional roles are changed here by a coming together reminding one of the ancient shamanic cults and echoing the contemporary culture of sects.
How do all of these elements fit together and why in general are they made to fit? Let us talk to Rūta Vitkauskaitė about that, while at the same time travelling along the periphery of academic music.
---
Let us start our conversation from the composition of yours that has been presented to audiences in Lithuania more than once, that is, your seven-part spatial sound opera Confessions for which you received the most important Lithuanian theatre award The Golden Cross of the Stage in 2016. The composition is based on the Christian idea of the seven deadly sins. It would be interesting to know why you were inspired in particular by religious motifs.
Firstly, I would like to stress that this isn't just my work alone. Three of us, the Swedish composer Jens Hedman, the soprano Åsa Nordgren and I, worked on it for almost six years. However, we did it as if we were one creator in three persons (smiling). The process itself I would describe as a whirlwind of conversations, discussions and an exchange of ideas. Often all of us together came to the same decision intuitively, even though it did happen that we had to look for compromises. Once we had reached those, we would move forward.
I think Åsa was the first to speak about the seven deadly sins and raised that as a creative proposal. This theme seemed to me quite strange and provocative, given that none of us is a Catholic. However, eventually we began to go deeper into the subject, to read and search. We became particularly interested in the period of the inquisition, when people were really brutally punished for committing these sins.
It seemed interesting that a good number of those deadly sins are not nowadays considered to be worthy of opprobrium. For example, greed, which is now not only not punished, but even encouraged. Or lust. Today it is understood as a normal human characteristic, actively promoted in magazines, advertisements and other types of media.
It was this change that became our creative reference point. We began debating: what are today's values? Which of them make up the foundation of culture? What is the thing called morality and does religion really safeguard it? Perhaps because of the specificity of these questions the opera took on the images typical of sectarian gatherings.
And in truth the scenography of the work is suffused with ritual motifs: the action takes place in a dark environment, the musicians are dressed in costumes not seen by the audience since they are sitting with their eyes covered with carnival masks. It would appear that these artistic decisions not only encourage one to listen to the music more attentively but also to go inside one's inner self, to contemplate one's own sinfulness. Are you aiming with this work to provoke moral tensions in the audience?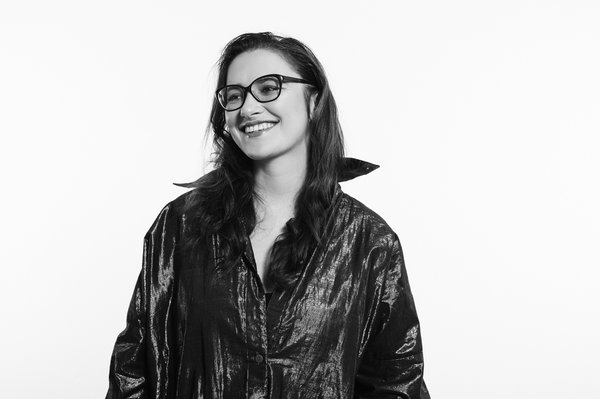 Rūta Vitkauskaitė. Photo: Anders Bigum.

The creative decisions mentioned by you – and not just those – came about intuitively. However, when I began to go deeper into the aesthetics of ritual, with which I have been dealing currently quite a lot in my personal work, it took on a certain meaning for me. If we look at the classical music scene, we shall see that it needed perhaps a thousand years for it to be formed. In the perspective of the history of music that's a very short time. For tens of thousands of years, music was exclusively a part of ritual, of social life. Herein lies the strength of music – it is a cultural form bringing together different people, calling up various subconscious associations and producing completely unique experiences for each individual.
Taking account of that, we took a very simple decision and covered the eyes of the audience / participants. By not seeing the stage, by being not behind it but in it, they had the opportunity to go through that unique experience of ritual which I miss in classical music. We did not need to be seen, our aim was that everyone would experience this opera in their own unique way.
Later, some people said they saw various visual images, others talked about finding themselves in a world of horrors, a third group that they found themselves immersed in a pleasant trance and meditated. There were also people who felt uncomfortable, who didn't like it, and who felt unsafe.
My own experience was multifaceted, and the reason for that, most likely, was the complexity of the work itself. There were both abstract motifs, bringing up various emotions and provoking reflection, and sounds modelling very concrete environments, stimulating a visual imagination. In creating the opera did you try to foresee the direction in which the way it's experienced would go? What strategy of putting sounds together did you follow and did you generally speaking think about that?
Yes, we really did think about that a lot. We read a good amount of scholarly literature, in which the attempt is made to understand how music works. Music is a particular kind of language with its own symbolism to which we all react in some way. Along came researchers who decided to see if there weren't certain sounds, perhaps harmonies, which might affect us in the same way and explain if music could not be understood as an international language. A lot of research like that was carried out in the 1970s. In carrying out the research, sounds were discovered to which we, regardless of our differences, react very similarly, for example, to the crying of a baby or to a gunshot.
All the same, we didn't spend long on the idea of music as a universal language. Going deeper into that subject, we came to understand that every interpretation of our future work was going to be very individualistic. In the final analysis, the aim to create a specific experience for all of the audience we left to one side. Instead, we tried to find means of expression which would arouse the same emotion or image for us. We thought that if a particular sound affects us, people with different experiences, living in different countries, in the same way, perhaps our opera's audience will also experience those sounds similarly.
Why are you in general interested in opera as a genre? Taking account of your thoughts about the importance of changes in the classical music scene, what, in your opinion, should be changed in opera?
What is opera? In principle opera is an operatic voice and some kind of narrative, regardless of whether it is concrete or abstract, with a finished story. It's also a drama, a certain kind of conflict. Finally, it's a synthetic genre, carried along by music as the thread running through it. There are also other criteria but it is these three things that are the most important to me. It's them that I depend on when I improvise.
'Confessions', spatial mono opera in the dark. Spatial Opera Company: Jens Hedman (composer, Sweden), Rūta Vitkauskaitė (composer, Lithuania), Åsa Nordgren (soprano, Sweden). Photo: Jurgis Sakalauskas.

It is difficult to encompass today's academic music when thinking about it in traditional categories. Genre, canon, manifesto, a creative programme – all of that and more, considered at one time to be signs of artistic purity, talent and professionalism, and at the same time as tools of thinking about art, have lost their meaning today. Your own interdisciplinary work marks this significant change. What does it mean to you?
This question was probably important to me when I was studying composition. At that time, I had a quite clear understanding of what that meant – how that music sounded and what it encompassed. And that was reflected in my own creative work. Already during my undergraduate studies, I tried more not to compose classical but contemporary music. Over time, the need to follow the classical tradition lessened even more. It seems to me that not only in music but in many of the other arts there has been an upsurge in collective work. Together with that, a great deal of interdisciplinary work, as well as joint projects between artists and scientists, appeared. I can relate to these things.
I don't consider myself a standard academic composer since, even though I seem to be always connected to a specific institution, I am immersed in composing contemporary music completely independently. With all that in mind, it is clear that I don't spend much time thinking about academic rhythms. It seems that every day I use what I've learned but even in writing work for orchestra, quartets, classical instruments I do that differently from what is usual. To many of my colleagues, composing according to the traditions of classical and contemporary music, my work seems very strange. I often get asked how I came up with 'such things' (laughing).
And in fact your work is multifaceted, it's full of the most diverse compositions. Most probably that reflects the state of contemporary art and culture in general – the mix-up of genres, the constant striving to cross various boundaries, to combine completely different creative practices. For many people this situation creates confusion: it seems you want to describe as clearly as possible what sort of art you like, even though you cannot conceptualise it. How, as an artist, do you feel under these circumstances?
Since I look at my creative work from a completely different perspective, uncertainties don't arise in my case. Music is important for me as a way of expressing a worldview, ideas or reflective expression. I am more interested in what I express or want to express through music, than in how I do it. That's a matter of choice for every artist.
I often have to think about new approaches as well since when you have a lot of shelves it is somewhat easier to put together the experiences lying on them in different ways and as a result create something innovative. I firstly think about an idea and only after that how best to convey it. That moment, when you understand that you've created something hard to describe happens already after the work has been presented – perhaps only then do I realise that I have created something which is outside of existing genres or does not conform to what was expected of me.
It is true that people very often ask me what genres my work fits into and ask me to name them but I do that differently every time.
Say more about what you call synaesthetics – a certain art practice where aesthetic experiences are combined in a targeted and complex way with the notional aspects of a work stimulating the audience's different senses – not only sight and hearing but also touch, smell, perhaps even taste. Why is it important for you that music is not only heard but also experienced in other ways?
It all began most probably from when I began to dislike the classical scene, the presentation itself, which seemed to me to turn one away from the music. That has an effect on concertgoers as well since both classical events and the majority of contemporary academic music concerts often bring together only a specific audience. The wish was to escape through visual means by creating a different concert atmosphere and choosing different spaces.
Confessions
shows that very clearly. The influence of visual perception on our culture is strong: images became particularly meaningful with the advent of film, then television, and finally with the emergence of the internet. In addition, we get practically all of our information about our environment through visual experience.
It wasn't like that before when the other senses also meant a great deal – smell, touch and in particular hearing. Earlier, sight was just one of the senses while now it seems that it is the only one. I noticed that if there are visualisations in a work, it is that which will get the most attention from the audience – people will only look, they won't listen.
Most probably for that reason, I am going to try in various ways in my creative work to use ritual elements and influence the audience through their direct participation, rejecting the presentation of a staged work and to orientate myself to individual experiences. As it happens, I am presently working on a continuing project called Something Personal which is close to Confessions in its character, only here the music is performed for just one listener in the attempt to create a unique sound space. This is a completely individual experience in which the roles of listener and performer are rejected.
You have been living in Great Britain for some time now and you're continuing your studies at the Royal Academy of Music in London. In one interview, when asked to compare your experiences in different countries, you mentioned that for some time you were negative about the cultural level of Lithuania as regards music but that you later changed your mind.
Since I myself am changing, my attitude also changes. Before it seemed to me that there is a certain professional level in Lithuania which once artists reach, they seem to stop. Perhaps because there isn't a great deal of competition or perhaps because of the relatively small number of concertgoers or simple reluctance.
I remember that while living here what wore me out was the contemporary music scene in which I was active and which it seemed I had to create myself with my colleagues. This means that there wasn't a great demand and required our own efforts to get together an audience, for us to organise the events, compose the music, perform it and on top of that to applaud ourselves (laughing).
From that point of view when I got to London I experienced culture shock while at the same time also being hugely fascinated. There are hundreds of professional and non-professional orchestras there, a whole host of events, concert music – of the highest level. I was also fascinated by London's underground culture in the development of which a great deal of work is put in.
However, after living here for some time I came to understand that this constant competition not only stimulates creativity but also inhibits it. If you want to live in London, you have to fit into a certain category. England is well known for its conservatism, the safeguarding of traditions which even permeates contemporary art. Even in the newest experimental music genres it is very clear what the audience expects from the creators and their concerts. In striving to get into this scene you have to follow practices that have already been formed. I then came to the understanding that in this respect everything in Lithuania is somewhat simpler – there is a lot of freedom of thought and creators are not constrained. Besides that, artistic projects in our country are in step with the newest tendencies in the world.
It seems that the advent of experimental art, performances, eventness in art in general implies that for many people it is more important to search. Perhaps even without expecting to find anything and maybe that is the goal. On the other hand, searching would lose its meaning if we didn't strive to find something. What in your opinion is more important in creative work – searching or discovering something
I think both of these things are equally meaningful. However, I always stress the meaning of the creative act itself. That is a very important thing which we often forget. In this regard I like to observe the scientific scene. Scientists often search for one thing but in searching for it they all of a sudden come across something completely different, something which in some instances changes our basic understanding of the world. These discoveries occur not in any structured way but through the very process of searching. So, one should not forget that when you've gone along a certain creative path towards an intended goal, discoveries can appear somewhere along the way.
Translated from the Lithuanian by Romas Kinka