Karolis VYŠNIAUSKAS | An Optimist's Guide to Lithuanian Popular Music
---
In the summer of 2015 the unexpected happened: a Lithuanian artist got into the spotlight of the international media. American Billboard, British NME, The Independent and The Guardian have all published articles about him, his name was trending on Twitter, other artists including The Chemical Brothers expressed opinions about him. No Lithuanian musician has ever received such massive attention.
It is just that it was hard to click 'like' on those articles. And the artist himself would love to forget this story had ever happened.
That artist was Ten Walls. For reasons still unknown he posted a homophobic rant on his Facebook wall, comparing homosexuals to pedophiles and describing them as "people of a different breed" who need to be "fixed." The reaction from the electronic music community was immediate and unambiguous. Ten Walls was dropped from summer music festival line-ups, both his agency and label stopped working with him, pre-orders of his highly anticipated debut album had been cancelled. In few days Ten Walls' career was completely shut down. He has no upcoming shows, his Facebook account is deactivated and the word "homophobic" is the first suggestion when you write "Ten Walls" in the Google search bar.
It was a dark day for Lithuanian music. Ten Walls was the first Lithuanian artist to become an international star in popular music. His house music hit Walking with Elephants reached 6th place on the UK singles chart – the highest for any Lithuanian song ever released. His live set in Ibiza was broadcasted on the BBC, his face was on the cover of DJ Mag magazine. He was a role model for young Lithuanian music producers, proving that if you work hard for a long time you can achieve major success even if you come from Lithuania, a country which does not (yet?) play an important role in the European music industry. Lithuanian music fans were proud of him, even the country's president had personally greeted him, but the sad old homophobia that still exists in modern day Lithuania has destroyed the talented producer's career. He let down his fan base and damaged the reputation of Lithuanian music.
This may have been the only story about Lithuanian popular music that you have heard. But do not let this story fool you. Despite the downfall of Ten Walls, today's Lithuanian popular music scene has an inspiring number of bands and artists who are open-minded both musically and socially. They are already writing the country's music history for the better.
The new generation of musicians grew up in a free and independent Lithuania. They do not understand how someone can control their creative ideas as had been done to previous generations of artists during the Soviet era. They do not associate popular music with glossy Soviet estrada songs and they make jokes about Eurodance, the sub-genre which was a curse for European popular music after Lithuania gained independence in 1990. They even are not afraid of a gay kiss at Lithuania's Eurovision performance, despite the huge controversy in the country. They travel a lot and spend their days online. English became almost like a national language to them – even if they use it in their own, sometimes quirky, way.
They do not make music for Lithuania; they make music for the whole world. This radical shift of thinking lets today's Lithuanian musicians achieve encouraging results.
The independence generation
Whole Lotta Love
, the four-piece left a strong impression, with their crowd tripling in size by the end of the set," wrote Liverpool's music news website Getintothis in what was the band's first review in the UK music press.
The success of Garbanotas Bosistas was also a big step forward for local music management. The doors to The Great Escape festival were opened by a small agency called Bold Affair, led by two young music managers from Lithuania. The agency became the official partner of the festival.
The first Lithuanian music YouTube star GJan, whose videos count views in millions, has already met with Sony, Universal and APG representatives in LA and Berlin. Having graduated from high school only last year she still writes songs at home with her boyfriend. The video for her most popular song was shot by the duo themselves and cost 4 euros. In GJan's case it is all you need when you know how to write a catchy pop song and have a computer with an internet connection to share it.
Even Lithuanians themselves have not discovered some of their country's music talents because they are living abroad. Such is the case for the electronic music producer Embody who is making his way in the highly competitive London music scene. "While school friends were dreaming of becoming astronauts I dreamt of a career like Michael Jackson's," says the musician, whose real name is Karolis Labanauskas. And he is slowly getting closer to his dream coming true. BBC Radio 1 is already playing his music, his songs have over a million streams on SoundCloud, he has collaborated with promising British singers A*M*E and Barnaby. And this is only the beginning – Embody has not released his debut album yet.
The amount of electronic music talents in Lithuania should not be surprising. In winters it gets dark at 5 pm, the temperature sometimes reaches minus 20 degrees Celsius, and the cold season can last for half a year. Young people, especially in small towns, spend their nights and days at home. Instead of blindly staring at the never-ending Facebook feed some of them choose to create music with their laptops.
Ernestas Kaušylas, or Brokenchord, is the example of that. He had spent his teenage years in Utena, a small industrial town in the east of Lithuania, creating music and sending it to anyone who might be interested. One day his work caught the ears of Radiohead members. They picked Brokenchord's song for one of their personal playlists which they sometimes share on the band's website. With the help from the BBC radio DJ Mary Anne Hobbs, who is also a fan of Brokenchord's music, he got in contact with the band and was assigned to make a remix for one of Radiohead's songs for their The King of Limbs remixes album. The Lithuanian producer's remix ended up on the official album, together with the songs remixed by such producers as Jamie XX, Four Tet and Caribou. At the moment Ernestas is studying in the Netherlands and writing songs that are going to be released in his debut album.
Having found himself in the Paris electronic music scene, DJ Manfredas is another promising name in Lithuanian electronic music. He has already spent years in the music business, working as a music editor for the Lithuanian MTV channel and being a member of the local electronic music heavyweights Metal on Metal. Yet Manfredas' solo career is taking his path to new heights. His debut single Pink Industry was released by Les Disques De La Mort label, founded by the acclaimed French electronic music producer Ivano Smagghe. Performances in Paris, London and Berlin are already becoming Manfredas' routine and this is just the beginning of a new chapter.
For a long time, female artists in Lithuanian pop music have been seen as talentless girls who perform poorly written songs using full backing tracks. Their music had no purpose but to earn money for their managers. There were neither Lithuanian Madonnas, nor Beyoncés, nor even Spice Girls. However, the situation is changing. Monika Liu is one of the most promising Lithuanian pop artists of the new generation. Once having been a rapper in a hip hop band in her home town Klaipėda, she later gained experience while studying at the prestigious Berklee College of Music.
Only a couple of years ago she was working in a London clothing store just to get by. And now she is collaborating with the city's producers, songwriters and artists, including such already established artists as Emeli Sandé. Monika Liu's debut EP I AM, which she wrote and produced herself, is a genre-redefining record. It shows that Lithuanian pop music can be interesting, creative and exciting even to those who have never thought that they will ever enjoy local pop music.
Another big change that occurred in Lithuanian music is connected with music production. There was a huge gap between local records and international records in terms of how they sound. That was understandable. In the Soviet era, the Western music producing and recording tradition did not reach Lithuania. For a long time, musicians have been recording their songs in small, DIY style studios having neither proper equipment, nor experience, nor colleagues that could give advice. As a result, a lot of poorly produced and recorded albums have been released.
The situation changed in 2013, when a recording studio Ymir Audio was opened in Vilnius. It was founded by Norwegian musicians who form such diverse bands as a synthpop act Rasabasa and a metal project Harnisk. A solid number of Lithuania's technically and creatively strongest records have been created in this studio. The examples include two EPs of Lithuanian indie rock hopes Deeper Upper, songs of the underground newcomers No Real Pioneers and many more. Rasabasa themselves have released a number of online singles, each of which was followed by an artistic music video created by a team of young video makers. Ymir Audio became more than just a place to record music. It is the international studio which united local musicians and video artists and inspired them to work independently from the old Lithuanian music establishment. As a result, they set the new standard for Lithuanian music production.
All of these are only a few bright stories that have happened in the Lithuanian popular music scene in the recent years. Something that all of them have in common is that only a decade ago none of them would have been imaginable. Today, though, it is a new and promising reality.
It is not the 90s anymore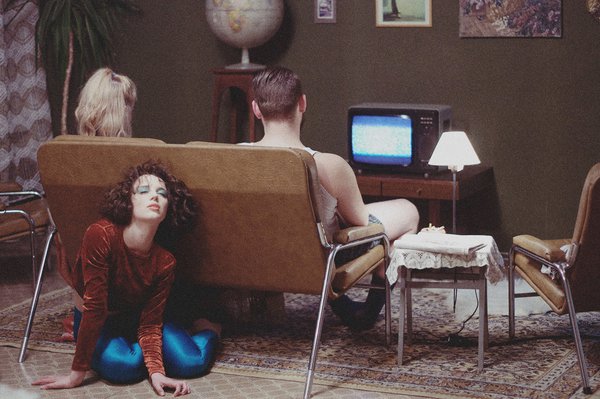 Music video by Rasabasa performing Vessels. Photo: Justė Urbonavičiūtė.

Lithuanian music history is ungrateful. Older musicians still remember the times when records by The Rolling Stones or The Beatles could only be bought illegally, when you had to make guitars yourself and your long hair could be cut off simply on the street. One of the most influential Lithuanian musicians Andrius Mamontovas had to postpone the beginning of his music career in order to serve in the Soviet army, something that seemed like a perfectly normal thing at the time. The Soviet rules were merciless for any creative work, including music. And after Lithuania gained independence, the wild 1990s started. Musicians were not sure about their future and took the easy money path which led to a lot of cheaply made pop music sometimes unashamedly ripped off from Western artists.
Now, after 25 years have passed since the independence declaration and 11 years after Lithuania joined the European Union, Lithuanian musicians are living in a completely different world.
One of the key factors that caused the change is the language that people use to communicate. The generation for whom the first foreign language was Russian was replaced by those who had been learning English from the early days. The English language let the new generation of musicians reach people everywhere from West to East. English has also become the main language for song lyrics, especially for those artists who want to get international recognition.
Music circulation is happening not only from Lithuania to the world but the other way around, too. Nowadays, concerts that one could not even dream of are held in the country. Gone are the days when one would have to wait until the end of a pop star's career for them to decide to play for fans in Lithuania. Lady Gaga, Lana Del Rey and Ed Sheeran have all played successful concerts in Vilnius during the last couple of years.
A niche for much needed smaller concerts has appeared, too. Loftas, a music club established at an abandoned factory in the Newtown of Vilnius, started to book midsize artists who could not sell arenas but are too big for small clubs. Nicolas Jaar, Moderat, Kelis, Editors and Zebra Katz are among those who have already gigged at Loftas.
Sometimes concerts become a lot more than just entertainment for a night. They become political statements. Lithuania is a shelter for the neighbouring Belarusian musicians who criticize their country's authoritarian regime and, therefore, do not have permission to play there. Thus they hold concerts in Lithuania, and their fans come along. At the last gig of the leading Belarusian anti-government band Lyapis Trubetskoy in Loftas, one could feel as if one was in Minsk and there was a revolution going on. A couple of thousand Belarusian music lovers attended the concert, the country's flags were fluttering in the air and political slogans were being shouted – something that would be silenced only a couple hundred kilometers away.
Foreign artists' example is influencing Lithuanian musicians and their fans, too, especially in the hip-hop scene. In 2014 alone, American hip-hop stars Xzibit, Onyx and B-Real from Cypress Hill performed in Vilnius. One could argue that those are not the names that play a major role in today's American hip-hop scene – but only a decade ago it was almost impossible to hear any live American hip-hop in Lithuania. Today the audience is getting used to it.
At the same time, the Lithuanian hip-hop wave is rising. For artists, this music is a way to express a young person's feelings about the current, post-economic crisis world that gives no easy answers. Lilas, Tie Geresni and MC Mesijus rap in Lithuanian about the country's reality and a lot of their songs have generated hundreds of thousands of views on YouTube. Even though it is still considered to be 'the underground music,' Lithuanian hip-hop is experiencing the biggest popularity wave since the genre's beginning in the country.
The history starts now
There are plenty of things in Lithuanian music that need to improve. Young bands still break up too early because they fail to reach financial security. There are too many people in the music business who try to get easy money and do not want to invest in music. Lithuanian music aesthetics have changed faster than its business model.
There are still signs of the Soviet ghosts roaming when it comes to the music of older generations. One day, ten thousand young people can be seen singing along with the British teen idol Ed Sheeran in a concert arena in Vilnius, and two weeks later Russian music stars fronted by Phillip Kirkorov are performing in the same venue for the same amount of people. Their music, full of kitsch elements played to a full backing track, is the total opposite to what new Lithuanian artists want to go for, however, it is still supported by the part of the audience which grew up listening to this type of music.
A more global challenge is that people in Lithuania are not as interested in music as they were a decade or two ago, when there were not that many entertainment activities, when bands had fan clubs, when people knew songs lyrics by heart. Music has become one of the many entertainment activities: it is consumed quickly and forgotten about just as fast. How to make popular music exciting again is the major question that the global music industry is trying to answer right now and Lithuania is not an exception.
But there is a reason why this text is written by an optimist. One thing is clear: the new generation of Lithuanian musicians have already chosen their direction, which is to go global, to be open and to be a part of the world which is no longer divided by the Iron Curtain. To be a musician in Lithuania today means to create history and that is what Lithuanian popular music artists are doing right now. It is only a matter of time when their names will appear in international headlines again. Let us hope this time it will not be hard to click 'like' on them.
Translated by Marija Meškovaitė and Karolis Vyšniauskas
STYLES & SCENES | Lithuanian Music Link No. 18